Since my last blog our beautiful angel Carla Clarkson flew to the sky,
so of course this next blog will be completely & utterly dedicated to
her, all that she was, is & will ever be.


Carla has had such a huge impact on my life, like most people she met.
She dazzled them with her sparkle, almost blinding people with her
beautiful light, a pure soul in every sense of the word.


Carla never made judgement about people, whether they are homeless or
living an affluent life, Carla's hugs were always available, and always
for free.


The first time I ever met Carla was at the Bikram studio. She was so
excited for her first class, and I was under her spell immediately. In
those first moments of being in her presence I felt a strong connection,
with Carla, she was someone who was without doubt a kindred spirit, a true
soul mate. Her smile was so infectious, and very quickly she made a
massive contribution in creating the happy, positive vibe at the studio
, which we continue to have to this very day.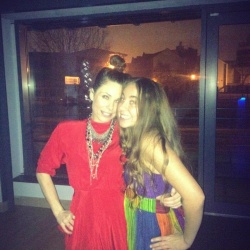 Whether you met Carla when she was working on reception, or in the hot
room itself, you would always remember her. She had this aura and
presence which was almost not of this world, and I truly believe she was
a projection of the peace & positive vibrations the universe has now
begun to shift towards. She was from the past & future all at once,
teaching and showing us peace and unconditional love.


Carla was most definitely a teacher, showing us the way on how we can
become better people. Although Carla was so beautiful on the outside, it
was foremost her inner beauty that shone the most, and so brightly. In a
city like Liverpool sometimes you can become lost in the superficial
exterior that pervades the general population, instead of working from
the beauty that is within us. There is no point appearing immaculate on
the outside if the inside is toxic, wherein no light can shine through.


If we all start to look more, and reflect on the inside, we can generate
more light by promising ourselves that we will do something kind more
often, to ourselves as well as to others. We can create so much positive
light and energy, & begin to become more of the projection of rainbow
light that Carla was & still is and continue the legacy and impact that
she left us with.


It all starts from within...........Instead of looking in the mirror at
something you don't like, pick something you do like & began to love it
with all your heart and being. Instead of judging someone, put yourself
in their shoes & maybe think about something you can do to help. It can
be something as simple as a smile, just to let another human being know
you that you acknowledging their presence, which can be so profound.
Sometimes the littlest gestures make the biggest difference.


After a beautiful Buddhist ceremony that Carla's own karma created she
is now in the pure land, free from all pain & suffering, absorbing light
which I know she will be sharing with Liverpool, as we continue to deal
with the huge loss we have all felt.


Just like the Buddhist tradition teaches us, we have to focus on the
positives only & be grateful for Carla's time and beautiful presence on
earth, just as Carla would have wanted it.

I miss Carla, her beautiful face and ways, however still feel her light.
I believe she is always all around, and continues to have such a huge
impact on this city and for so many people within it. Her passing has
united everyone, which is in itself magical......all part of Carla's
creation & mission. I know Carla will continue to enchant us, and I for
one will be forever under her spell.

Always sending love to Carla's family & friends especially her beautiful
inspiring sister Terri